I had known that, in Ireland, fairies are common. Let me rephrase that; people take fairies (at least somewhat) seriously. I would never have believed this except for a conversation we had this morning with the lady that manages and is the caretaker of the house in which we are staying. She dropped over this morning to tell us that today is garbage day and explain how garbage pickup works in this neck of the woods. The short form is that you must pay to have garbage picked up because you must pay for the bags and the waste-disposal services will only collect the special bags.
That has nothing to do with fairies. The topic of fairies came up in the subsequent conversation over a piece of Robin's carrot cake (there was unanimous agreement on its deliciousness). We began talking about the beauty of the land in this area–it is among the most beautiful places in Ireland with its mountains, beaches, and rolling hills. It is also littered with falling down castles and archeological artifacts. There are formations nearby that are thousands of years old and predate Stonehenge.
In the course of our discussion, as casual as you please, our caretaker mentions that there were a couple of sites just beyond her backyard about five minutes away. Yeah, and every once in a while a bunch of them archeologists drop by and sometimes tourists to take look at them. Turns out they are large communal circles inside which groups of family would live. But, for years, people believed they were fairy mounds (fairy forts) and never touched them.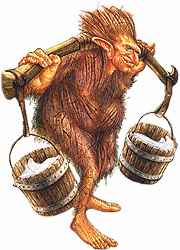 She was dead serious. These mounds existed because no farmer would farm the area and disturb the rocks. Nobody would build there. nobody would even go and play there. This was a place where the fairies lived and it was not to be disturbed. These mounds were left virtually untouched for all those years (from late Iron Age to early Christian times) until now because people were afraid of messing with fairies. This is no namby-pamby set of beliefs. And these are not your Disney fairies either.
Instead of doing a lot of my school work today I spent a couple of hours looking up Irish folklore and fairies. As one might imagine, the history of fairies begins early and changes with the introduction of Christianity, which was unable to remove the fairy folklore. There are lots of Irish fairies and Irish Fairy Tales. It is enjoyable to read about the superstitions around fairies and to realize that while people may not really believe in the tales, I suspect that more than a few choose not to anger the wee folk whenever possible. After all, the caretaker's two fairy mounds remained untouched for hundreds of years.
In case you are wandering about, I will leave you with a field guide to Irish fairies to help you identify the common types and their behaviour.